SharePoint Application Development Services
Microsoft SharePoint is one of the most preferred business collaboration platforms, used by businesses of all sizes, including nearly 80 percent of Fortune 500 companies. With SharePoint customization services, you can:
Streamline your business processes
Facilitate collaboration
Increase productivity
Organize your data
Manage projects and tasks
Improve branding
Achieve greater business insights
and much more, all with decreased IT and overhead costs.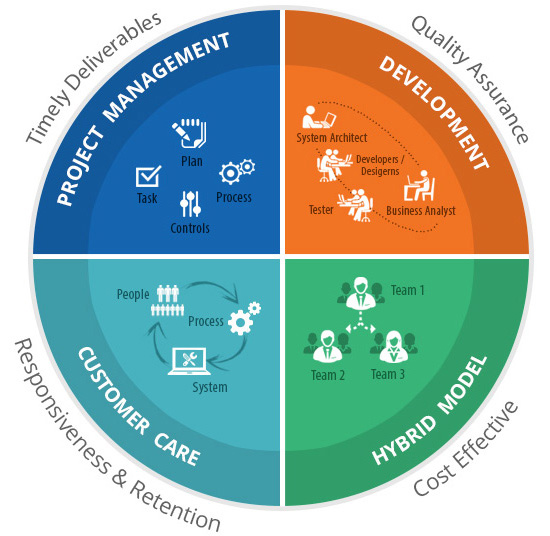 What an awesome experience I had working with this team. If you need a professional, reliable and competent team to help you out with any of your tech needs you don't need to look any further. From start to finish this team really made the process easy and did a fantastic job. I would use them again in a heartbeat.
– Payam Pakmanesh
(CEO)
Cable Car Apps LLC
Hercules, CA
SharePoint Application Development Services
AllianceTek's SharePoint developers are proactive, technically capable, and ready to take on any challenge. We deliver complete SharePoint Solutions that address a multitude of needs, from branding and marketing, to business automation, and enterprise content management.
We help our clients select the best technology, define the right solution, and create a thorough, comprehensive roadmap for development, from initial design to SharePoint deployment and SharePoint application testing.
Our SharePoint Customization services empower you to discover, share, and collaborate on content from anywhere, and on any device. We provide our clients with dynamic, user-friendly tools and automated, streamlined processes that facilitate transparency and collaboration. These tools include:
Task management
Document management
Workflows
Alerts and reminders
Dashboards
Web parts
Business intelligence
Discussion boards
Enterprise search
Events calendars
AllianceTek's SharePoint implementation services enable you to increase your ROI, provide a better top and bottom line, enhance scalability, and improve your business' efficiency. AllianceTek has experience in SharePoint product development on multiple SharePoint versions, including:
SharePoint 2007
SharePoint 2010
SharePoint 2013
SharePoint Online/Office 365 Platforms.
Learn more about AllianceTek's proven approach methods and how our SharePoint developers can rapidly deliver your business' unique solution.
SharePoint Integration services
One of SharePoint's strongest features is the ability to integrate with external systems to boost user productivity, efficiency, and collaboration by providing enterprise-wide access through a single dynamic portal. Connect your system with e-signature services, third-party service providers like GoToMeeting, external databases, and more with a simple click of a button.
Many businesses use disparate systems to manage their processes. With SharePoint integration, AllianceTek can help you access all enterprise information through a single platform, providing you with a unified portal to real-time business information.
Using BCS and web services that simplify integration, we can rapidly connect your external data, systems, and services to SharePoint, delivering huge value, speed, and improved productivity.
SharePoint Migration Services
Microsoft SharePoint is one of AllianceTek's core areas of expertise. Our experienced and dedicated team can assist your business with seamless SharePoint migration services, whether you're looking to migrate your legacy system to SharePoint or want to upgrade your current SharePoint system.
AllianceTek's SharePoint migration services include:
In-depth analysis of your business needs and infrastructure
Determine additional requirements to meet your business objective
Define a unique SharePoint migration plan tailored to your business' goals
SharePoint Implementation and Deployment
AllianceTek ensures that SharePoint implementation goes smoothly. We can deliver:
Cost-effective SharePoint hosting services
Configuration of SharePoint sites into a SharePoint farm
Accurate hosting of various versions of SharePoint, including SharePoint Foundation, SharePoint Server, SharePoint 2010, SharePoint 2013, SharePoint 2016 and SharePoint Online/Office 365
Complete SharePoint application support and immediate response to client questions and status queries
Solution Development
AllianceTek's SharePoint product development team designs, builds, and configures workflows, reminders, lists, third-party integration, dashboards, and KPIs. In addition, we can provide powerful search and query tools that will aid your team in navigating the system, and quickly accessing the documents and information they need.
We are familiar with all of the software's out-of-the-box features, and offer unique SharePoint customizations if required to meet your business needs. We utilize SharePoint's server object models and client object models, as well as in-built SharePoint features and out-of-the-box tools for cost-effective and timely deliverables.
User Interface and User Experience Design
AllianceTek is sensitive to the needs of SharePoint users and strives to provide a design that eliminates obstacles, reduces confusion, and improves adoption rates, retention rates and overall user experience.
With a SharePoint Customization, AllianceTek will:
Meet with you to learn about your business and discuss your requirements
Create compelling designs and provide a prototype to help make quicker and better decisions
Implement a tailored design, following your approval, that ensures a high level of user satisfaction
Whether your goal is improved branding, a new look and feel for customers or employees, a customized layout, or simply to migrate your design to SharePoint – our developers will provide the SharePoint UX design that you need.
SharePoint Application Testing Services
AllianceTek employs a multifaceted quality assurance approach for SharePoint application testing. Our micro-level testing breaks the project down into separate parts, ensuring that each component gets the attention necessary for analysis, design, development and validation, while our multi-dimensional testing ensures maximum quality from each level of the software.
AllianceTek's automated and manual SharePoint Application Development services for quality assurance includes:
Design and conceptual testing
Functional testing
Regression testing
Integration testing
User acceptance testing
Scalability and performance testing
Security testing
Training
AllianceTek provides training materials and training sessions after SharePoint deployment to ensure your team is equipped to tackle their tasks head-on on their new system.
Support and Maintenance
Software development demands ongoing business support and immediate response to client requests and inquiries. Our team can stay with your project as long as necessary and can give their full attention to expertly implementing any future enhancement you need. We can also be your standby SharePoint maintenance experts.
Using our hybrid model, AllianceTek has developed a unique response process – we provide immediate action on all client inquiries, regardless of their nature. We are always available to resolve any issue or problem in a timely and cost-effective manner throughout the development process and after deployment. We also provide SharePoint Consulting Services.